Nutriceutical Therapies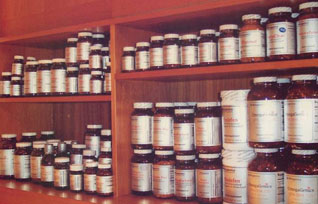 "Optimizing the environment at the time a woman conceives will likely have an effect on gestation as well as the health of children. Reproduction effects health and health effects reproduction."
(from an abstract of an ASRM-American Society of Reproductive Medicine article: Fertility and Sterility, Volume 99, Issue 2 , Pages 299-302, February 2013. Assisted reproductive technologies and perinatal morbidity: interrogating the association by Kurt T. Barnhart, M.D., M.S.C.E)
Dr. Mudrak at the Reproductive Acupuncture Center is dedicated to optimizing your health and your environment to effect a healthy pregnancy and later, a healthy, growing child.
Natural Pharmacy
For your convenience, Dr. Mudrak has a natural pharmacy on hand at her office where you may purchase the professional brand supplements at a time convenient for you. If it is not convenient to pick up the recommended nutraceutical products in person, or it is not in stock on the shelf, we will gladly order the specific product for you to be delivered to your door.
You can influence the genetic expression of good health by implementing a nutritional foundation, which protects your cells and helps your cells send signals in favor of good health throughout the body.
What type of nutrition do you need to fertilize your reproductive field or valley? What do you want to exclude? What nutrients will optimize the potential of your seed or egg? These are critical concerns and questions that can addressed by Dr. Mudrak via nutritional therapy and nutrigenomics.
At the Reproductive Acupuncture Center natural pharmacy Dr. Mudrak carries professional nutritional products such as those from Metagenics. The Metagenics nutritional supplements and formulas are scientifically formulated based on proprietary and published studies in nutrigenomics—how nutrition influences genetic expression for good health. In other words, food and other plant components send signals to cells in the body that ultimately influence our health. That's why we say our nutraceuticals and medical foods help patients reach their "genetic potential through nutrition."
Reasons to purchase your nutritional products from the Reproductive Acupuncture Center's natural pharmacy
Professional Quality
In our office, we order products only from suppliers who demonstrate a consistently high quality standard in their manufacturing processes. These standards give our patients and us the confidence that the products we recommend have the highest standards of purity, potency, ease of absorption and overall effectiveness for producing health.
When consuming natural substances, it is important to be sure that the products are manufactured with the highest level of for both safety and effectiveness.
In the U.S., supplements and natural remedies are regulated as "dietary supplements" as opposed to "pharmaceutical drugs." This means that manufacturers are largely free to set their own standards and procedures. As a result, the quality of supplements varies tremendously from one manufacturer to the next.
It important to purchase products only from companies that adhere to the highest standards regarding their ingredients, formulations, manufacturing processes, and quality assurance policies. Even if ingredients are of good quality, some brands of supplements contain certain types of fillers and additives that may be unhealthy. In addition, the types and doses of the ingredients may be combined in ways that are not ideal.
Selection Support Resources
The most expensive supplement is the one that is not right for you. The right product choice can make a significant improvement in your health but the wrong product may be irrelevant or even harmful. Much is at stake but determining the right product for you can be a complicated process. Production processes typically present a multitude of complex variables but that complexity is made simple when compared to your physiology. With your health interests in mind, we encourage you to do what you can to make wise choices when selecting products to ingest. We are pleased to provide the following resources to help:
A. Nutritional Consultations
Nutritional consultations represent our highest level of product selection support. They allow you to ask Dr. Mudrak to take an in depth and focused view of your health and supplementation program. After assessing your situation, she will present you with a product plan. Dr. Mudrak will review the product plan regularly at your acupuncture or consultation visits.
B. Impromptu Selection Support
Dr. Mudrak is pleased to make herself available as time permits between patient appointments during office hours to respond to product related questions that might benefit from a quick answer.
Price Match Assurance
High quality costs more than low quality. The Reproductive Acupuncture Center prices its products competitively. If you see one of our products listed locally for less, let us know and we will do our best to match it.
Hormonal Balance
Dr. Mudrak can easily and inexpensively analyze your hormone imbalance via the BioSignature Hormone Imbalance System as researched and implemented by Charles Poliquin. Dr Mudrak can then recommend specific nutrient supplements that will specifically influence your endocrine balance and reproductive health. Proper hormone balance will improve your fertility and the health of you and your baby.
Your hormonal balance is regulated by your endocrines system which includes the stress hormones such as: cortisol, epinephrine and norepinephrine; female hormones such as estrogen; insulin; male androgenic hormones such as testosterone; growth hormones and thyroid hormones. If you have already had laboratory testing done, bring a copy of the results with you at your initial appointment so Dr. Mudrak can proceed from there.
If you have not been through the expensive process of laboratory blood work of the reproductive and other hormones Dr. Mudrak, can implement the BioSignature Hormone Assessment at your first visit via skin fold evaluation and measurement, very inexpensively, to help determine the nature of your hormone imbalance and propose recommendations to address deficiencies and treat hormonal imbalance.
BioSignature Hormonal Assessment
Charles Poliquin, world-renowned researcher and strength coach, developed a system that recognized and utilized the correlation between hormonal imbalance and an easily observable finding-the location of body fat storages. The specific location of body fat storage is a reflection of the individual's hormonal profile and its system of measurement and recognition is known as the BioSignature Hormonal Assessment. In summary, where you store your fat is determined by which hormones are imbalanced, and by observing and measuring the location of fat storage a direct indicator of hormonal imbalance can be gained very simply and inexpensively.
How was the BioSignature Hormonal Assessment developed?
Over the course of 25 years, Poliquin along with a group of researchers from Canada and Europe performed the 12-site skin fold testing with lab tests that measured hormonal levels through blood and saliva samples. With thousands of tests performed and backed with lab work, normative data was determined to show that specific sites on the body correlated to specific hormonal imbalances.