Testimonials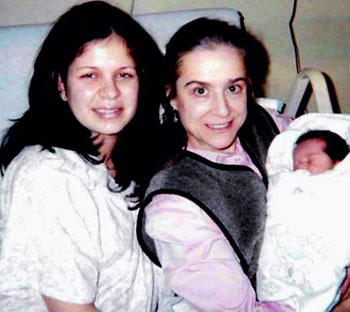 "I saw Dr. Laura Mudrak for acupuncture when I was in a deep state of grief. I had already started my family and wanted to add to it but after repeated miscarriages I was at a complete loss. I was laying on Dr. Mudrak's acupuncture table with acupuncture needles inserted, when for the first time in a long time I heard the word peace.
It is remarkable that Dr. Mudrak helped me deal with both issues, grief and infertility. Working with Dr. Mudrak gave me more than hope because she gave me a plan and action to go with it. I trusted Dr. Mudrak's acupuncture treatment plan and combined it with hormone therapy for ovulation induction and intrauterine insemination. It worked! We added twin boys to our family! Dr. Mudrak continued to monitor my pregnancy and has helped in significant ways with the health of my children. For many reasons, I trust and recommend acupuncture from Dr. Mudrak for any woman or man with fertility issues (and, she will also be able to help keep your children healthy!)."
- Kathy, thirty-nine years old at time of delivery
---
"It only took two months to conceive our daughter, but the dream, plan and preparation began well before that. When I started working with Dr. Laura Mudrak, I had a full slate of complaints and problems.
Dr. Mudrak laid out a plan for rejuvenating my health and vitalizing my fertility. We addressed my health and fertility issues with acupuncture and a nutritional program. Dr. Mudrak worked in 'layers,' being very specific with the timing and manner in which my health issues were addressed. She had a protocol for handling all of my health and reproductive issues and proceeded at a pace and in a manner that I could manage. Once I became pregnant, Dr. Mudrak continued to support my pregnancy.
In short, Dr. Mudrak was very valuable to me. Her guidance and reproductive acupuncture treatments significantly contributed to our process of conceiving and bearing a healthy child. She has also been of great help when my daughter has had health issues. I trust Dr. Mudrak and I have referred other friends and family members to Dr. Mudrak."
- Anna, thirty-nine years old at time of delivery
---
"I come from a long line of worriers so I was naturally quite worried when conceiving and maintaining a pregnancy became a large and looming issue in my life. Dr. Laura Mudrak and her acupuncture treatment and health care helped me navigate through the infertility maze. Now, I have conceived my children and my family plans are complete.
I am a registered nurse and prior to starting with in vitro fertilization (IVF), I did a lot of reading about pregnancy and IVF. From the Mayo website, I learned from the latest research that IVF has a 16% higher pregnancy rate when combined with acupuncture than when IVF is done alone. Apparently, acupuncture improves blood flow to the uterus, increases the thickness of the endometrial lining and makes a woman's uterus more receptive to pregnancy. Dr. Mudrak timed acupuncture treatments around the dates of my hormone therapy and the embryo transfer, and well, I guess the acupuncture really did help-my husband and I can count our blessing every day.
Good referral sources led me to Dr. Mudrak and I was very impressed with her credentials—she has a level of training, knowledge and expertise that was beyond any other practitioner I found. I am confident in her work and I trust her. Completely.
I have recommended Dr. Mudrak to many of my family and friends who are having health issues, but most especially to those couples with fertility issues who are also going down that stressful path of 'baby-making.'"
- Heather, forty years old at time of delivery
---
"I was very eager to have a baby. After trying to conceive on our own for years and then working with my OB/GYN, we were referred to a center for advanced reproductive medicine. I went through an ultrasound-timed hysterosalpingogram and hormone therapy for ovulation induction which was monitored by ultrasound coupled with intrauterine insemination—twice. No pregnancy.
I had heard about Dr. Mudrak and her reproductive acupuncture and made an appointment to see her. Dr. Mudrak addressed and treated my fertility and overall health problems. Just as I was beginning to feel better about my health, I missed my period! Voila! I was pregnant! All in under four months, without drugs or expensive, invasive procedures.
Dr. Mudrak is awesome to work with. She is vibrant, positive, energetic and very nurturing. I trust her and I have already referred my sister, a close friend, and an associate for help with their fertility issues."
- Kristi, thiry-nine years old at time of delivery
---
"The day I called Hands on Heart, I was at my wit's end—my husband and I were trying unsuccessfully to have a second child. Our son was in kindergarten and my periods still had not resumed! No one could tell me why, much less tell me what to do about it. On top of that, I was having terrible digestive problems—I just felt whipped, physically and emotionally.
Over the course of the past 5 years, I had seen countless doctors and tried everything (it felt like it anyway)—including Clomid—without even a glimmer of success. Everyone I saw always had the same puzzled look on their face—I felt like a freak. I happened to see Laura's ad by chance in a paper I never normally pick up—I carried it around with me for about 2 weeks before I finally called her.
The minute I started talking to her about my situation, I felt like finally someone 'got me.' I started seeing her regularly for acupuncture and herbs—it was the best decision I ever made. My overall health improved immediately—I always say Laura 'fixed' my digestion.
It took about a year for my period to return and in spite of any discouraging moments, one of the things I appreciated about Laura most of all is that she always had a plan, she's very proactive and has really great instincts—she waded through mountains of temperature charts so patiently in order to unlock the answers!
Plus, she was part therapist, always addressing the emotional aspects of my situation as well. I had two periods and got pregnant! I continued to see Laura during my pregnancy for herbs and chiropractic care. On March 12, 2011 I gave birth to my beautiful daughter Anna!
I had such a good pregnancy and last delivery—I'm convinced that was because of Laura's help as well. When I watch my daughter with her brother Michael, I feel convinced in my heart it would not have happened without Laura—her wisdom, knowledge and insight are truly unique and her kindness is unmatched."
- Amy D.
---
"I am so grateful for the work Dr. Laura Mudrak has done for me through out my pregnancy. I can only imagine how differently my pregnancy would have gone had it not been for her wisdom, insight and healing. She used her expert knowledge to help ease all of the pains of pregnancy as they arose at each stage. She worked with me beginning in my first trimester, and helped ease my morning sickness and fatigue, and prescribed me vitamins to ensure the best growth of my baby.
Throughout my second and third trimester, she eased the pains of my growing body and baby by working to align my back and pelvis to ensure my body was in line to deliver, I cannot tell you how much this helped with my sleep! Finally, when I was ready to deliver Dr. Mudrak began a series of acupuncture treatments which worked with my body to prepare it and ease it into labor. She tailored every session to what my body needed and I am sure it is because of Dr. Mudrak that my pregnancy went so well. I trust her judgment an her advice, and would highly recommend her to anyone. She is an expert in her field, compassionate with her clients and loves what she does."
- Sophia B.