Payment & Fees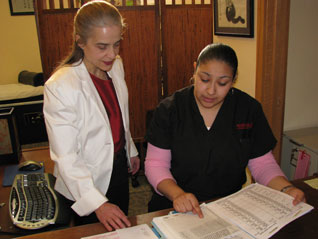 There are two methods of payment for treatment: on the day of service, or later by using health insurance.
A. Payment the day of service
The advantage of paying on the same day of service is that a substantial discount is given for the services provided.
Use:
Cash
Check
Credit card: VISA or MasterCard only. Please note that debit cards are not accepted unless used in connection with a Health Savings Account.
Itemized Receipts
The clinic will provide each patient with an itemized receipt (a super bill) which includes the patient's name, their diagnosis code(s), the procedure code(s) and description(s), the standard fee charged, the discount given and the amount paid (cash, check or credit card). Once a patient chooses to accept the discounted price for payment at the time of service, the patient foregoes the option to submit to a health insurance plan per their agreement with their insurance plan.
Health Savings Account (HSA)
The patient may, choosing to pay at the time of servic, still submit to a HSA for reimbursement (and will still receive the discount). They will be given the super bill described above to use in conjunction with the HSA.
B. Payment using Health Insurance
Please also refer to the FAQs page for frequently asked questions about payment using insurance and other coverage.
The rates billed by Laura Mudrak, D.C., L.Ac. for insurance and same day payment are the same. However, the patient is given a substantial discount for paying on the day of service (see discounted rates above). This saves a considerable amount of adminitstrative time, energy and costs. If the clinic does do the insurance billing, the cost to the patient maybe higher per visit than the discounted price while that patient is working through their deductible.
Some general comments about how insurance works
Insurance companies offer many different plans for subscribers. For example, two people may both have Blue Cross Blue Shield, but their plans' coverage may be drastically different.
As a courtesy we will attempt to verify your insurance benefits for you, however, you are responsible for understanding your coverage. In order for us to help you, we need information from your insurance card including your name correctly spelled, your policy and group numbers, your birthdate and the name and birthdate of the policy holder.
You are ultimately responsible for payment of your bill if your insurance company denies payment to Dr. Laura Mudrak.
Treatment types that are sometimes covered by insurance:
Acupuncture
Foot orthotics
Treatment types that are often covered by insurance:
Chiropractic new client consultation and examination
Manipulation of the spine and other joints
Additional therapies: ultrasound, muscle therapy, exercise therapy and instruction, ice or heat application, manual traction therapy are also covered by many insurance policies.
Treatment types and products that are rarely or never covered by insurance:
Herbal or Nutritional supplements
Orthopedic supplies: back rests, back supports, etc.
The fees that apply to you will depend on:
Type of treatment
Payment by insurance or cash (if you pay on the same day of treatment, a discount is given on services)