Chinese Herbology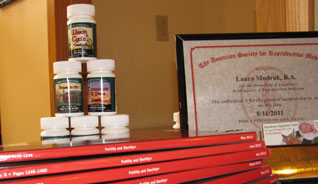 Dr. Mudrak, Dipl. C.H., Dipl. O.M, Dipl. Acup., is a highly qualified Chinese herbalist and has years of experience in prescribing herbs to enhance the reproductive health and fertility of her patients. Dr. Mudrak is certified in Chinese Herbal Medicine and Oriental Medicine by the National Commission for the Certification of Acupuncture and Oriental Medicine (NCCAOM), so she has the highest certification available—in addition to years of experience—to recommend the proper herbal therapy for you.
Chinese Herbal medicine is a primary treatment modality of Traditional Chinese Medicine (TCM), and involves the ingestion of herbal formulas, which have been specifically chosen for the patient's specific health problems. All herbal formulas recommended by Dr. Mudrak are in the form of tea pills, tablets, capsules or powders for easy and convenient use.
Herbal formulas typically consist of 6-18 herbs, which are carefully crafted to optimize body function and harmonize the body and mind with few or no side effects. Dr. Mudrak makes the herbal formula recommendations by first identifying the specific disease patterns present for each individual patient via TCM and then determining proper treatment strategies.
Treatment strategies of a few of the TCM infertility patterns include:
strengthening weak organ systems such as those involved in reproduction (the kidneys, liver, spleen, ovaries and uterus);
enriching the body's qi, blood and yin (e.g. the reproductive hormones);
moving qi to regulate the menses and smooth out the irritability, mood swings, cramps and headaches observed in premenstrual syndrome (PMS);
moving blood to reduce stasis in such conditions as endometriosis;
moving qi and fluid to correct stasis as seen in ovarian cysts;
resolving dampheat issues present in vaginal yeast conditions etc.
clearing excess heat that may present as excessive menstrual bleeding;
warming cold uterus presentation.
The effectiveness of Chinese Herbal formulas is clinically documented. Dr. Mudrak will provide you with information to help you understand:
why the herbal formula has been recommended for you (clinical indications);
which herbs are in the formula;
the mechanisms of action of the herbs present;
cautions and contraindications of the herbal formulas; and
proper dosage and scheduling of the herbs (time of month, time of day, etc.).
Herbal Purity and Effectiveness
When Dr. Mudrak recommends herbal medicine, she specifies not only the proper TCM formula, but also the specific brand. Dr. Mudrak has the knowledge, experience and licensed ability to vet only the most reliable brand herbs. All herbs must be certified to guarantee compliance of herbal safety and purity in their manufacturing. The manufacturing certifications must include:
Australian Therapeutic Goods Administration (TGA) and
China Good Manufacturing Practices (GMP).
The purity of the herbs must be guaranteed by a Quality Assurance Certificate of Analysis on every batch testing for: heavy metals, pesticides, herbicides or any other foreign contaminant. The brands are chosen for their strict pharmacopeia guideline adherence in all steps including herb sourcing, formulation, extraction and testing to rigorous and detailed parameters. The reputations of the herbal manufacturers are stewarded by deep commitment and responsibility for purity and effectiveness of Chinese herbal medicine.
Length of treatment
Duration of the herbal regimen depends on most part on the patient's overall health and the specific nature and duration of their symptoms, disease and underlying TCM pattern. The stronger and healthier the patient is, the faster the expected changes from the course of herbal therapy should manifest. Even with chronic conditions, some improvement should be noted by both the patient and Dr. Mudrak within two weeks, especially when the herbal medicine is coupled with acupuncture. However, stubborn, chronic conditions may take considerably longer to correct and it may take three or more months to regulate the menstrual cycle and promote fertility.