Reproductive Acupuncture Center
Notice of Privacy Practices
Effective Date: November 2, 2010
This Notice describes how medical information about you may be used and disclosed and how you can get access to this information.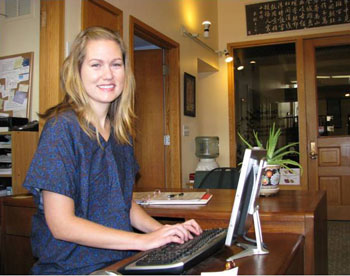 Please review it carefully.
Introduction
Hands on Heart Holistic Healthcare, P.A. is committed to treating and using your protected health information responsibly. This Notice of Privacy Practices describes the personal information we collect, and how and when we use or disclose that information. It also describes your rights as they relate to your protected health information for treatment, payment and health care operations. This Notice is effective November 2, 2010, and applies to all protected health information as defined by federal regulations.
Use and Disclosures
To provide you with the highest quality care, Hands on Heart Holistic Healthcare, P.A. has occasion to use and disclose your health information. Permitted uses include:
• Treatment
We may use and disclose your medical information to provide, coordinate or manage your health care and any related services. For example, we may disclose your medical information to doctors, nurses, technicians, or other personnel who need the information to assist in providing you with medical services.
• Payment
Your medical information may be disclosed, as needed, to obtain payment from you, an insurance company of a third party for the treatment and services you received. For example, we may disclose your medical information to your health plan to determine your eligibility or coverage for insurance benefits.
• Health Care Operations
We may use of disclose your medical information for our internal operations, which include activities necessary to operate our sites or programs from which you receive services. For example, we may use your medical information for quality improvement services to evaluate the care or other services provided to you. We may also use your medical information to evaluate the skills and qualifications of our health care providers or to resolve grievances within our organization.
• Other permitted Uses and Disclosures
We may use and/or disclose your medical information in a number of other circumstances. Those circumstances include:
• Appointment Reminders and Treatment Alternatives
We may use your medical information to send reminders about future appointments. We may also contact you with information about new or alternative treatments or other health care services.
• Business Associates
We may share your medical information with third party associates that perform various services for us. For example, parties that provides billing or copying services. To protect your medical information, however, we require our business associates to safeguard your medical information.
• Patient Information Directory
Unless you object, we may disclose information about you to people who ask about you by name. The information we may disclose includes your location in our facility and your general condition. In addition, we may disclose your religious affiliation to members of the clergy.
• Notification
We may use or disclose information to notify or assist in notifying a family member, personal representative or another person responsible for your care regarding your location and general condition.
• People Involved in Your Care
Health professionals, using their best judgment, may disclose to a family member or close personal friend, or any other person you identify, health information relevant to that person's involvement in your care or payment related to your care.
• Research
Under certain circumstances, and only after a special approval process, we may use and disclose your health information to help conduct research.
• Death and Organ Donation
We may disclose certain health information about a deceased person to the next of kin. We may also disclose this information to a funeral director, coroner, medical examiner or law enforcement official. If you are an organ donor, we may also disclose your health in-formation to people involved with obtaining, storing, or transplanting organs for donation purposes.
• Food and Drug Administration (FDA) Regulation
We may disclose health information to entities regulated by the FDA to measure the quality, safety and effectiveness of their products.
• Fund Raising
We may contact you as part of fund-raising efforts.
• Workers' Compensation
We may disclose health information to the extent authorized by and to the extent necessary to comply with laws relating to workers' compensation or other similar programs established by law.
• Public Health
A required by law, we may disclose your health information to public authorities for purposes related to: preventing or con-trolling disease, injury or disability; reporting child abuse or neglect; reporting domestic abuse; and reporting disease or infection exposure.
Correctional Facility
We may disclose the health information of an inmate or other person in custody to law enforcement or a correctional institution.
• Law Enforcement
We may disclose health information if requested by laws enforcement officials, for the following reasons: in response to a court order, subpoena, warrant, summons or similar process; to find a suspect, fugitive, material witness or missing person; about victims or suspected crime victims; concerning a death that may have been due to criminal activity; about criminal activity at one of our facilities; or in emergency circumstances to report a crime, the location or the crime or victims, or the identity, description or location of the per-son who committed the crime.
• Military Authorities/National Security
We may disclose health information to authorized people from the U.S. military, foreign military and U.S. national security or protective services.
• As Required by Law
We will disclose health information when required to do so by international, federal, state or local law.
With Your Authorization
We may use or disclose health information only with your written permission, except as described. If you give written permission, you may withdraw it at anytime by notifying us in writing. You understand that we are unable to take back any uses and disclosures that we have already made with your authorization, and that we are required to retain our records or the care or services that we have provided to you.
Your Health Information Rights
Although the records containing your medical information are the physical property of Hands on Heart Holistic Healthcare, P.A., the information belongs to you. By law, you have the right to:
Request restrictions on certain uses and disclosure of your health information; however, we are not required to agree to a requested restriction.
Receive confidential communications of your health information by alternative
means or at alternative locations.
Inspect and copy your health information.
Request an amendment of your medical information.
Receive an accounting of disclosures of your health information.
Revoke your authorization to use or disclose health information except to the extent that action has already been taken.
Obtain a paper copy of this Notice upon request.
Our Obligations
Hands on Heart Holistic Healthcare, P.A. is required to:
Maintain the privacy of your health information
Provide you with this notice as to our legal duties and privacy practices with respect to your health information.
Abide by the terms of this notice.
We reserve the right to change our practices and to make the new provisions effective for all protected health information we maintain. You may inquire by phone or in person at a clinic visit if the practices have changed since your last signed acknowledgement. If our information changed, we will then provide you an updated copy.
Questions and Complaints
If you have questions or would like additional information, you may contact Hands on Heart Holistic Health-care, P.A.
HIPPA Privacy Officer at 651-690-5543.
If you believe your privacy rights have been violated, you may file a complaint with Hands on Heart Holistic Healthcare, P.A. HIPAA Privacy Officer or with the Secretary of the Department of Health and Human Services at:
Office for Civil Rights
U.S. Department of Health and Human Services
200 Independence Ave SW
Room 509F, HHH Building
Washington, DC 20201
You will not be penalized or retaliated against for filing a complaint.
Upon request
We will provide you with a paper copy of our current Notice.